MeaningWell exists because giving, receiving, and understanding stories is at the heart of healthcare.
Mission
To improve health outcomes by centering the role of stories in caregivers' work and in patients' experiences.
Vision
A world where stories are an unequivocal part of health professionals' training and practice, of patients' experience of care, and administrators' and advocates' efforts to improve health.
Values
We all have an Expertise in some area, whether it encompasses a technical discipline or our own experience.
Never assuming we know what another person is going through means we always act with Humility.
Recognizing one another's humanity means relating to each other with Mutuality.
Beyond sympathy and empathy, Compassion causes us to act to relieve suffering.
When we interact with one another in these ways, we expect personal, interpersonal, and systemic Transformation.
A Story is its Structure
A story is different from all other forms of communication because of its structure. The structure all stories share can be learned and can be leveraged.
At their simplest, stories have three parts: a beginning, a middle, and an end. In the beginning, there's a problem that needs to be solved. In the middle, there are obstacles. Those obstacles complicate solving the problem. In the end is a resolution to the problem.
Whatever we have to communicate, this structure increases the efficacy and impact of our message. A well-formulated problem informs the listener where the conversation is going and focuses the conversation. It also conveys the importance or urgency of what's being communicated. Clearly articulated obstacles flesh out the complete and relevant context. A resolution or proposed solution helps to drive behavior to the next, desired step.
In healthcare, stories are used most immediately when patients relate experiences and symptoms which drove them to seek care in the first place. Stories go much further, though. They can be utilized not just to relay information back to patients, but to analyze, communicate, and take action to make care more effective.
How do you apply storytelling to healthcare?
Consulting and Advising
When projects and initiatives have an ongoing need for deliverables or general advising around communication practices, MeaningWell is available for consulting and advising.
Workshops
For skills improvement or training, MeaningWell is available to facilite workshops and workshop series.
Here are some examples of consulting, advising, and workshop implementations of storytelling structure:
Patient Experience
There is tension at the heart of health systems' interest in patients' perceptions of their care. On the one hand, the Beryl Institute points to the fact that patient experience is "the sum of all interactions … across the continuum of care." On the other hand, data collected from patients is siloed. To understand experience from the patient's perspective, systems must take a longitudinal view of the patient's continuum of care.
Health systems have ways to escape the narrowest siloes. Patient Experience is measured for one clinic visit or one hospital stay as opposed to interactions with one physician (for example). Accounting for what interactions are within a health system's ability to control is certainly not the system's fault. Limiting how systems listen to patients about the continuum of their care necessarily limits how systems can achieve better perceptions and better quality of care.
Part of soliciting patient stories and learning to listen to storytelling is broadening the scope of the stories we can collect. Patients' stories are longitudinal. When health systems have the ability to ask for and listen to stories that start outside of their sphere of influence, systems not only have a better context for the human experience of healthcare, but they can improve what is in their ability to control in order to intervene to improve health outcomes and patient experience.
Quality & Processes
Workarounds are everywhere in the practice of healthcare. Workarounds happen when systems fail to provide adequate tools, resources, information, or even medication, but a patient needs immediate care regardless. Front-line staff might pride themselves on getting things done for patients' sake, but frustration still mounts when problems have to be "fixed" repeatedly. Even if a health system implements formal process improvement work, what stops those tools from being used to create unsustainable and nontransferable solutions?
Organizations are often invested in finding a solution to a single issue. This "single-loop learning" will often remedy one event, but leave problems with only slight differences unsolved. Examining causes from a systemic level, discussing how problems occur without blame, and empowering staff to improve performance at every point in future processes is difficult work.
This "double-loop learning" is necessarily reflective, and can incorporate the viewpoints and experiences from multiple staff and multiple data sources. Walking staff through the structure of stories illuminates what each sees as the most important, what barriers exist in their own work from implementing a solution, and what sustainable, systemic options might work for them. Combining and reconciling these different narratives is important in change management and continuous improvement efforts.
Engagement
If healthcare infrastructure in the United States can be said to have any governing principle at all, it is the autonomy of physicians. This historical fact is in direct conflict with current reality. Today, a majority of physicians are not autonomous professionals, but employees of some kind of system. On an even wider level, there is a cultural disconnect between the independent practice of expertise in all healing professions and the increasingly cooperative, collective environment in which medicine and healthcare occurs.
The hard-won expertise of how to do what's best for an individual patient can be at odds with the organization's demands for how to do what's best for the system's other staff working upstream, downstream, and parallel to the clinician. Adding financial strain and administrative burdens to this mix becomes a recipe for otherwise passionate and well-trained professionals to disengage from their work and further slide into burnout and disillusionment.
Clear, consistent, reciprocal, and authentic communication is correctly heralded as the necessary first step in a solution. Any one of those qualities can seem vague, though, and together they seem daunting. Storytelling can help with all of those areas. Stories add structure and clarity when communicating with healing professionals: here's the root issue we're having, here's why we need your buy in, and here's where we're going (and how it's going to make your work and your patients' outcomes better). Communicating like stories communicate helps make messaging consistent: initiatives and tactics might switch, but rallying around a problem is longitudinal. After using story structure to, listening to concerns becomes more immediate: exactly which part of the story do clinicians find objectionable? (In other words, do they not consider a given issue to be a problem? Do they disagree that part of the solution lies in their area of practice? Do they disagree that the proposed solutions or processes are useful at all?) Communicating authentically grows out of telling consistent stories: are the stories all related to the organization's mission, and related to what is actually worked on in the organization on a daily basis?
Equity
There is a knowledge gap in healthcare. Healthcare professionals must necessarily have a mastery of information and skills that patients in their care don't. In a busy clinical environment, it's easy to have this mastery of healthcare bleed into mastery over the cared-for.
In subtle ways, the concept of "cultural competency" can reinforce this. Training is usually designed to bring about an awareness of and sensitivity to the differences in ways cultures, races, genders, generations, sexual orientations, etc., communicate. This is positive, but can often lead to a sense that the stories to and from people different from us have been successfully mastered.
Replacing cultural competency with cultural humility is key. Every person, no matter how different or similar to us, brings different narratives with them when they communicate. Learning the structure of stories and listening for the touchstones all stories have in common can help focus on what a patient is saying, rather than the patterns we expect them to exhibit. With cultural humility, mastery can be used for the patient's benefit, rather than on the patient themselves.
Professionalization
The content of clinical education is only the most obvious layer of what is taught to health professionals. There is a "hidden curriculum" inherent in every kind of education: students and professionals not only learn information about their area, but also learn what values and behaviors are rewarded. It's impossible to put a stop to a hidden curriculum, it can only be shaped and utilized to impart useful and valuable attributes.
One of the biggest barriers to producing health professionals whose values and ideals match clinical reality is that the hidden curriculum is just that: hidden. Values and rewards may be discussed explicitly, but the fact remains that students learn how to navigate their own professionalization by every interaction they experience. Hidden curriculum isn't hidden because it remains undiscussed, it's hidden because it's hiding in plain sight.
Only engaged in dialogue can we uncover what we have really been learning, and whether what we have assumed we've learned has been put into practice. Using the structure of storytelling, learners are able to reflect on what issues and ethical dilemmas they have had to face, uncover the aspects that confused them or confounded their ethics, and relate whether their chosen course of action matched what they would have expected from themselves or others.
Advocacy
Momentum doesn't only apply to physical objects, organizations and individuals are subject to it in their own ways. When we advocate for any kind of change, having to communicate why the effort of changing is clearly worth it is a crucial part of presenting the specifics of what and how will change.
Most often, though, we communicate this information completely backwards, if it is communicated completely at all. The usual template for communicating change is relating what will change, the necessary pieces involved in the change, and why the change is happening. This way of relating the components involved in change derails itself from the beginning. By the time the listeners are invited to recognize how important this change is, they are likely imagining the difficulty or negative consequences to themselves.
Storytelling communicates information in a way that allows it to be both clear and motivating. Stories start with problems, and first communicating what problem will be solved focuses the conversation and also gains the attention and trust of those listening. Stories then communicate what obstacles there are to solving the problem, which often includes the rationale and importance of the buy in from those present. Finally, stories communicate a solution to the problem, which can be used as a call to action.
The Principal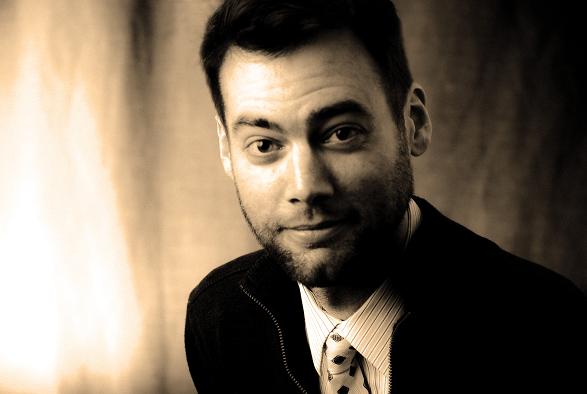 Lance Brett Hall, MPH grew up with his father's stories of farm adventures and repairing muscle cars in rural Illinois. He initially had in mind to pursue a career in physics or engineering. His love of stories and helping others tell them better took over, though, and he decided to pursue theater training and humanities scholarship instead. One of the big insights from the analytical side of his training was that stories work a lot like his dad's cars: they can be disassembled, repaired, and rebuilt to go faster and farther.
After several years of work in the Chicago theater scene, Lance was hospitalized from a chronic illness, and subsequently suffered from a hospital-acquired infection. During the hospitalization, his Dad was his advocate. He saved Lance's life by transferring him to tertiary care, where the antibiotic-resistant infection was diagnosed and treated. In the aftermath, Lance began using his training to intervene in patient-provider communication. His ultimate goal is to create a health system that doesn't need his Dad for good outcomes.
Today, Lance advises, consults, and facilitates workshops for health professionals and advocacy groups on how to structure health communication for greater impact and better outcomes. His work has been featured at several international conferences.
Lance holds Artium Baccalaureus cum laude from Cornell University as a College Scholar of Liberal Arts and Theatre Arts, where he studied under the Pulitzer Prize nominee Dr. David Feldshuh, MD, PhD. He graduated Upsilon Phi Delta from UCLA with an Executive Master of Public Health in Health Policy and Management. Lance is an alumnus of the Illinois Mathematics and Science Academy and is a certified Lean Green Belt Professional. He lives in Los Angeles with his wife, Dr. Megan Rexius-Hall, PhD, and their son.